The Pacific Tree Frog is one of the smallest amphibians in the West coast of North America. It belongs to the Hylidae family. This amphibian can easily be distinguished from other frogs, because of its toe-pads. It is the most commonly heard frog in its native region.
Pacific Tree Frog Scientific Classification
| | |
| --- | --- |
| | Animalia |
| | Chordata |
| | Amphibia |
| | Anura |
| | Hylidae |
| | Pseudacris |
| | Pseudacris regilla |
Table Of Content
Scientific Classification
Pacific Tree Frog
| | |
| --- | --- |
| | Animalia |
| | Chordata |
| | Amphibia |
| | Anura |
| | Hylidae |
| | Pseudacris |
| | Pseudacris regilla |
Sub-species
There are three sub-species of Pacific Tree Frog:
Northern Pacific Tree Frog (Pseudacris regilla regilla).
Sierran Tree Frog (Pseudacris regilla sierra).
Baja California Tree Frog (Pseudacris regilla hypochondria).
Description
The Pacific Tree Frog is somewhere between 3 – 4cm long. It has various kinds of markings and spots on its back. There are small bumps on the upper side of its body. It has relatively long and slender legs, in comparison with the size of their body. Males have a dark patch on its throat.
At the bottom of each toe, there is a rounded sticky pad, which helps them to stick to plants and other surfaces. The females are generally larger than the males.
Color
These frogs are primarily green and brown in color. One of the most important features of this species is that the color of their body changes according to the environment and these changes provide them a perfect camouflage. It is very hard to spot them unless they move.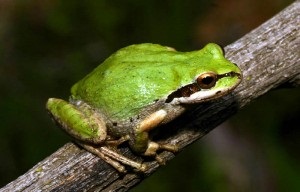 Picture 1
– Pacific Tree Frog
Source
– blog.elizabethenslin.com
Previously it was thought that these frogs can be either brown or green. Now, researchers have found that an adult pacific tree frog can be cream, reddish cream or reddish brown in color as well. The color shades changes from dark to light and vice versa. The underside of their body is creamy white in color.
Distribution
Pacific Tree Frogs are primarily found in the West Coast of North America that includes Oregon, Washington, British Colombia and California. Eastwards it is found in Montana, Idaho and Nevada.
It is also found in some parts of Mexico, Canada and Alaska.
Habitat
Pacific Tree Frog can be found in various kinds of habitat that includes forests, semi wild forests, woodlands, grasslands and pastures. At times, they can also be spotted near streams, agricultural regions and residential areas.
In spite of being a fine climber of trees, they prefer to stay around shrubs and grasses near water-bodies. They spend their time in hiding under rocks, tall grasses, leaf litter etc.
During the cold season, these frogs are known to hibernate in burrows of small animals or in dense vegetation.
Behavior
This species is primarily a nocturnal and territorial animal. During the mating season, they gather in large numbers near the breeding pools.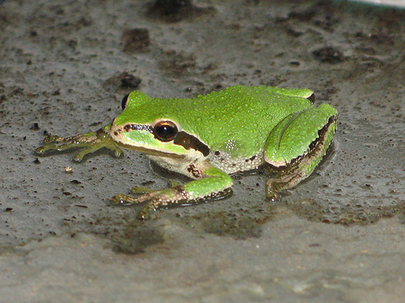 Picture 2 – Pacific Tree Frog Picture
Source – generalexotics.com
Diet
These carnivorous frogs primarily feed at night. But during the breeding season, they feed throughout the day. Their diet includes flies, ants, mosquitoes, beetles and small spiders. They use their long sticky tongue to capture flying insects.
Breeding
Pacific Tree Frogs become reproductively mature within 18 months. Their breeding season starts around November and continues till June-July. The time of breeding depends on the weather and the location.
Breeding Locations
The breeding locations of these frogs includes-
Ditches
Vegetated Wetlands
Wet Meadows
Marshes
Streams with low current
Swamps
Artificial Ponds
Seasonal Ponds
Small Lakes
The male frogs move to breeding locations and calls to attract the females. The males call both from inside and outside the water. During this time, the males fight with other males over females.
Pacific Tree Frog Eggs
The female frogs generally lay eggs in shallow and calm water.  They lay around 450 – 800 eggs in small and irregular clusters, which are generally attached to vegetation. Each cluster consists of 10 – 70 eggs. The eggs are UV-B radiation resistant and can also survive slightly acidic water. The eggs are also known to survive slightly cold weather for a short period.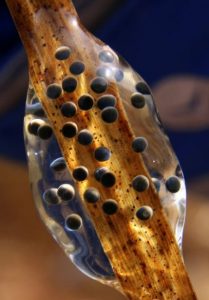 Picture 3 – Pacific Tree Frog Egg
Source – connect.sierraclub.org
Tadpole
Eggs hatch within 2 – 3 weeks. The brown colored tadpoles have a long round shaped body and reach around 2 inches in length. The underside of its body is white. They feed on plants, small twigs, protozoa, algae and bacteria. The metamorphosis of the tadpoles takes 2 – 3 months and then the juveniles move to their natural habitat.


Picture 4 – Pacific Tree Frog Tadpole
Source – dipperanch.blogspot.com
Call
Male Pacific Frogs produce a diphasic call that sounds like "krrek..eek". Their calls are usually heard at evening and night.
During the breeding season, the male frogs call in large numbers creating a chorus. Generally a single male starts to call, which is followed by other males.
Life Span
In its natural habitat, this species is known to live around 3 – 6 years.
Predators
Their predators include snakes, herons, raccoons, american bullfrog, birds, american mink and many other small reptiles and mammals.
As Pets
These frogs are very popular as pets, but anyone who wants to keep this species in the aquarium, must acquire a license from the concerned department of the government. Permissions are generally given to universities and other research centers.
Housing
This species can be kept in a large aquarium. Provide them a few inches of water along with dry area beside. It will be better if you add some small plants and twigs inside the aquarium. It gives them an environment that looks like their natural habitat. To make it look better, add small pebbles at the bottom of the aquarium.
Temperature
The temperature of the aquarium needs to be around 45 to 60 degrees Fahrenheit. The humidity level must be around 70% – 75%.
Diet
Feed the frogs with silkworms, butter-worms, earthworms, meal-worms, crickets or any other small feeder insects.
Interesting Facts
Here are some interesting facts about this species-
In 2007, Pacific Chorus Frog was named as the state frog for the state of Washington (USA).
Researchers are studying on the sticky feature on their toe, so that they can come up with new technology for tires.
Native Americans believe that each frog of this species co-exists for each human being on earth. Therefore, they show great respect for this animal.
Like most of the amphibians, the disappearance these frogs indicate pollution in the environment.
The call of these frogs is widely used in Hollywood movies as a night time background sound.
Their skin holds salmonella. So try not to hold them with bare hands.
Conservation Status
Pacific Tree Frog is easy to spot in its natural habitat. Because of the changes in the environment and poor water quality, its population is in decline in few places. Until now, these frogs are not listed among threatened or endangered species. It is considered least concerned.
Pictures
Here are some pictures of this beautiful frog :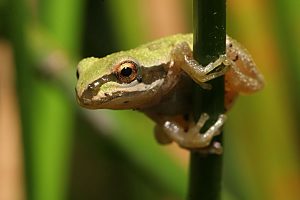 Picture 5 – Pacific Tree Frog Picture
Source – polyland.calpoly.edu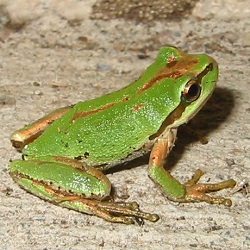 Picture 6 – Pacific Tree Frog Photo
Source – eyesonkenmore.com