What is Tiger Salamander?
Tiger Salamander is a species of amphibian family of the animal kingdom. They belong to the burrowing category.
Tiger Salamander Scientific Classification
| | |
| --- | --- |
| | Animalia |
| | Chordata |
| | Amphibia |
| | Caudata |
| | Ambystomatidae |
| | Ambystoma |
| | Ambystoma tigrinum |
Table Of Content
Scientific Classification
Tiger Salamander
| | |
| --- | --- |
| | Animalia |
| | Chordata |
| | Amphibia |
| | Caudata |
| | Ambystomatidae |
| | Ambystoma |
| | Ambystoma tigrinum |
Facts
Find some interesting facts about tiger salamander.
Tiger salamanders secret a slimy substance which is poisonous to other animals.
Fish, toads, and other aquatic animals eat up tiger salamander larvae and thus they produce the poisonous mucus to protect themselves.
Before mating male tiger salamanders mimic a female tiger salamander to slink in and drop his germ cells on rival male tiger salamanders.
Tiger salamanders' tails do not possess fracture regions.
Some of the smaller species of tiger salamanders do not have lungs and they breathe by the gular pumping.
Tiger salamanders are one of the endangered species nowadays.
Description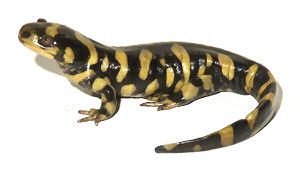 Picture 1
– Tiger Salamander
Source
– netstate
Length – Tiger Salamanders mostly grow till 9inches to 12inches. Though sometimes, some of them can grow till 14inches.
Head – Tiger salamander has a blunt nose, flat head, and small eyes. Their heads resemble to toads.
Tail – Tiger salamander has a long and thick tail, which are toxic.
Feet – Tiger salamander has four sturdy feet, two in the front and two at the back. The front feet have four toes and five toes at the back.
Colors – Tiger salamanders come in a wide range of colors. Usually they come in dark grey, green, black, and blue base on the skin. Their skins are spotted, barred, patched, or stripped with white, orange, or yellow. There are also albinos amongst the tiger salamander species.
Skin – Skin of tiger salamander is scale-less, moist and shiny.
Natural Habitat
Being an amphibian tiger salamanders are found near water bodies only during monsoon, which is their breeding season. They are usually found near marshes, streams, ponds, and other small aqua bodies.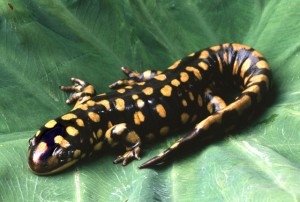 Picture 2 – Tiger Salamander Image
Source – wikispaces
Apart from monsoons the tiger salamanders could be found in field, forests, prairies, and other soft ground lands, where they can hideaway under the tree leaves, or underground, or under the litter.
Life Span
On average tiger salamanders live for about a time span of 12yrs to 15yrs.
They attain their sexual adulthood at the age of 4yrs to 5yrs.
Distribution
Tiger salamander is found near South Dakota, near west river, and east of the Missouri river. Some of the species are found in northeastern parts of the state and some are found in southeastern counties.
Types
There are many sub-species of tiger salamanders.
Eastern Tiger Salamander
Eastern Tiger Salamander is generally dark brown or black skinnerd with blotches or spots of yellow or olive. Scientific name of Eastern Tiger Salamander is Ambystoma tigrinum. It is foud near Nebraska, eastern Texas, Kansas, and New York.
Barred Tiger Salamander
Barred Tiger Salamander is also dark brown or black skinned with yellow vertical stripes on it. Scientific name of Barred Tiger Salamander is Ambystoma mavortium mavortium. It is found near southern Texas, central Colorado, new Mexico, and central Nebraska.
Arizona Tiger Salamander
Arizona Tiger Salamnder is black or dark brown skinned with tiny and very few yellow spots on it. Scientific name of Arizona Tiger Salamander is Ambystoma mavortium nebulosum. It is found near Arizona, Utah, new Mexico, and central Colorado.
Blotched Tiger Salamander
Blotched Tiger Salamander is smaller in size than Arizona Tiger Salamnder. It has light grey, or pale ground colored skin with webbed dark markings on it. Scientific name of Blotched Tiger Salamander is Ambystoma mavortium melanostictum. It is found near southwest Saskatchewan, northwest Colorado, Nebraska, and southern Alberta.
Grey Tiger Salamander
Grey Tiger Salamander is brown and olive skinned with black spots on it. Scientific name of Grey Tiger Salamander is Ambystoma mavortium diaboli.
Sonoran Tiger Salamander
Sonoran Tiger Salamander resembles to Arizona Tiger Salamander or Barred Tiger Salamander. Scientific name of Sonoran Tiger Salamander is Ambystoma mavortium stebbinsi. It varries in colors. It is found in Patagonia Mountains and Huachara.
Endangered Species
Tiger salamanders are now becoming endangered more than ever. Their habitats are usually the water bodies in monsoons, where there are lots of fishes which are their predators. Sometimes even when humans are fishing the tiger salamanders also get caught in the fishing rod and are killed.
Other parts of the year the tiger salamanders reside in the forest and other marsh lands where they dig under the soil. Sometimes they even get squashed under the traffic.
Humans are getting interested in petting tiger salamanders and thus they have a growing demand in the black market as well. Not always that the tiger salamanders get tamed and accustomed to the new environment, and they eventually die out of the change in their natural habitat.
As Pets
Tiger salamanders are becoming more popular as pets than ever.
Cage
The cage should be ideally 15gallons for one tiger salamander. The housing should be provided by the natural ambience of the tiger salamanders as much as possible. It should have parts of both land and water bodies. The cage should not come in contact with any pesticide. The ground should be provided with a thick layer of soil to allow the tiger salamander digging in it.
Some rocks, aquatic plants, etc. nee to be placed in the water body for the female tiger salamanders to help attach their eggs while breeding.
Temperature
Tiger salamanders require a daytime temperature of 68degree to 72degree F, and at night they require around 50degree to 60degree temperature.
Humidity
Tiger salamanders require quite a high level of humidity, around 70%.
Feed
Tiger salamanders should be ideally fed in every 2-3days. They survive on bugs, insects, smaller amphibians, etc. They are not very selective regarding food.
Reproduction
After mating, the female tiger salamanders lay eggs, which they hide attaching them to the aquatic plants, logs, and stones under water. It takes around 4weeks for the eggs to hatch, and comes out small larvae which have feathery gills.
The larvae stay under water till they reach semi-adulthood. At this stage they tend to shift to more earthly plots. The tiger salamanders become eligible enough for sexual activities at around 4-5years.
The tiger salamander eggs can grow into cannibal and normal morph larvae, and neotenic, air-breathing cannibal, and only air-breathing adults.
Pictures
Check out the pictures of Tiger Salamander to know more about its appearance.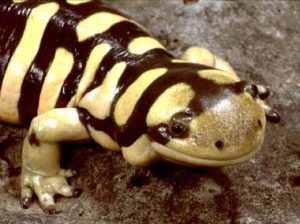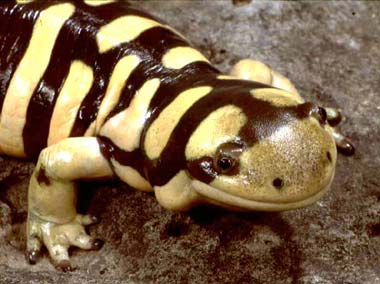 Picture 3 – Tiger Salamander Photo
Source – statesymbolsusa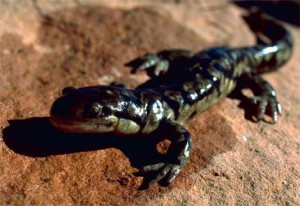 Picture 4 – Tiger Salamander Image
Source – pictureshunt
Tiger Salamander Diet Facts
Tiger salamanders feed on worms, little mice, insects, other smaller amphibians like tadpoles, small snails, etc. Tiger salamanders are used to eating once in every 2-3days at least. Calcium and vitamins are a must in their diets.
Tiger Salamander Poisonous Fact
Tail of tiger salamanders are toxic and if by chance are eaten then death is inevitable. Some species of tiger salamander secrete mild poison in form of mucus on their skin. Though not fatal but this poison can cause serious harm to human beings.
Tiger salamanders are a wonderful species of amphibian family, which is endangered now. They need to be conserved. They can be wonderful pets if kept properly. But if thought to be petted then they need lot of care and a surrogate natural atmosphere.